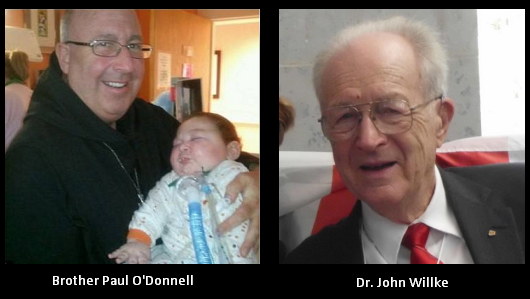 Winston Churchill's observation that "good and great are seldom in the same man" found exception in two exceptional men who passed away this last weekend. Brother Paul O'Donnell and Dr. John (Jack) Willke both brought the pro-life movement to new heights through their full lives of love and devoted effort.
Brother Paul O'Donnell
"One of the sweetest, kindest men I have ever known [has] passed," wrote Jacki Ragan of National Right to Life. "I can't imagine that it was his time but God knows these things, not me. Brother Paul was only 55 years old. He was the Superior at the Franciscan Brothers of Peace, a stalwart advocate for life throughout its spectrum, and he was my friend – for well over 25 years. He was also one of my heroes."
"Brother Paul was a founder of the Pro-Life Action Ministries and served with them still. He was a board member of the Terri Schiavo Life and Hope Network, and a valiant spokesperson for life."
"What an honor and privilege it was to see him in action, taking a stand for the truth…for life."
Writing about his passing, Wisconsin Right to Life's Barbara Lyons stated, "Brother Paul was a constant source of support to the Schindler family throughout the very public and painful ordeal of Terri Schindler Schiavo's death from starvation and dehydration 10 years ago. He is a wonderful friend of Wisconsin Right to Life and has presented at our teen camps and conferences. A tower of strength with a gentle soul, he inspired so many. May he deservedly rest in peace, tightly in the loving arms of his heavenly Father."
Dr. John Willke
Cincinnati Right to Life (founded by Dr. John Willke and his wife Barbara) tells of his passing.
The pro-life movement worldwide mourns the loss of Dr. John Willke, who slipped quietly from this earth Friday evening, February 20, 2015, just two months short of his 90th birthday. His beloved wife, Barbara, preceded him in death April 2013–a soul mate he missed deeply.
"Dr. Willke was the leading statesman addressing the second civil rights struggle of our nation," said Paula Westwood, Executive Director, Right to Life of Greater Cincinnati. "He met with presidents and popes and crossed the globe, but his passion was always to ensure the right to life for helpless unborn children and other vulnerable people."
Dr. Willke was a physician, author, lecturer, TV and radio personality, and expert in human sexuality. Until recently, he served as president of the national Life Issues Institute, headquartered in Cincinnati, Ohio. He served for ten years as president of the U.S. National Right to Life Committee, and helped found the International Right to Life Federation.
Dr. and Mrs. Willke co-authored Abortion, Questions and Answers: Why Can't We Love Them Both; Handbook on Abortion; Abortion and Slavery, History Repeats; Assisted Suicide & Euthanasia, Past & Present; plus six other books on human sexuality, videos, brochures, and more. Their works have been translated in over 30 languages worldwide.
Just last month, Dr. and Mrs. Willke's autobiography Abortion and the Pro-Life Movement: An Inside View was released, chronicling the life of this legendary couple. They were devoted to their children, grandchildren, and great grandchildren, and in all things strengthened by their strong Catholic faith.
Barbara Lyons said of Dr. Willke, "Back in the olden days when Wisconsin Right to Life was a fledgling upstart, we were fighting somewhat blind. Ultrasonography was a vision of scientists, not a reality. How were we supposed to convince people there was a real baby in the womb, a baby in need of protection?"
"Dr. Willke and his wife, Barbara, both penultimate educators, came up with a slide presentation featuring the few pictures we had of unborn babies. They wrote books about fetal development and abortion and urged us all to work for the mother as well as the baby. We used their materials to educate millions. Many an old-timer can state that the Willke slide presentation brought them into the pro-life movement."
"Now Jack has joined his wife Barbara in perfect peace in heaven, fulfilled in knowing the powerful impact they had on earth. Rest safely, Jack, in the arms of your Father and in the company of all of the pro-life heroes who preceded you. You will be missed."