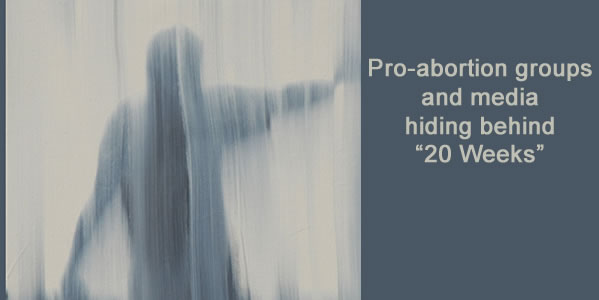 This blog post originally appeared at RightWisconsin.com
Last Thursday, Senator Mary Lazich and Representatives Jesse Kremer, Joan Ballweg, and Joe Sanfelippo introduced the Pain Capable Unborn Child Protection Act. Within minutes of the introduction of this bill, all of the major pro-abortion groups and the mainstream media began spouting their usual diatribe against lifesaving legislation that protects vulnerable unborn babies from abortion.
The current drumbeat is that this is a mere "20 week abortion ban" and "healthcare" decisions should be left to a woman and her physician. But, that isn't what this bill is about, not even close.
The Pain Capable Unborn Child Protection Act protects an unborn baby who is capable of feeling pain. Why isn't this a "ban on abortion at 20 weeks"? Well, anyone who took the time to read the bill would quickly understand that this is far more than a simple ban on abortion. First, an unsubstantiated ban on abortion at 20 weeks would be arbitrary and unconstitutional on its face due to the Roe v. Wade Supreme Court decision. What reason would we have for randomly selecting that age? What interest would the state have in that particular age of an unborn child? Instead, this bill presents the opportunity to assert a new, compelling state interest in protecting the lives of unborn children from the stage at which there is substantial medical evidence that they are capable of feeling pain.
The narrative surrounding the "Pain-Capable Unborn Child Protection Act", or the "Pain Bill" for short, needs to change to keep the pro-abortion side from hiding their extreme views. Don't let them duck behind the cover of "20 weeks." When we talk about the pain of the unborn child, we win. And groups like Planned Parenthood and NARAL know that. That is why they insist on avoiding the fact that the most common abortion procedure done on unborn children who can feel pain is a Dilation and Evacuation procedure, which dismembers the child limb-by-limb. That sounds painful. It is painful.
It is barbaric that we allow unborn children to expire in such a gruesome and painful way. We have to call Planned Parenthood, NARAL and the mainstream media out – they know that unborn babies can feel pain. Don't let them hide from the truth.
Learn more about this legislation
here
.