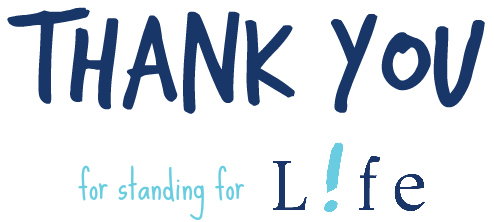 It takes a lot to change the culture for life, whether by activism, volunteering, giving, or legislative action. That's why, looking over this past year, we as a pro-life movement have accomplished much, especially in the legislative arena.
This past year we had some big legislative priorities – and thanks to the leadership of our pro-life legislators on both the federal and state level, they have become a reality. Please, take some time now that the year is wrapping up to thank our right-to-life legislators for all that they have done for life!
Call, email, or write – all are appreciated by our pro-life legislators!
Federal
Who to Thank: U.S. Senator Ron Johnson, Speaker Paul D. Ryan, Rep. Jim Sensenbrenner, Rep. Reid Ribble, Rep. Sean Duffy, Rep. Glenn Grothman (Find your legislators and all contact info here.)
Legislative Victories:
Pain-Capable Unborn Child Protection Act – received a vote in both the U.S. House of Representatives and in the U.S. Senate. Although there weren't sufficient votes in the Senate for the bill to advance, pro-life Sen. Ron Johnson did take a stand with his fellow right-to-life legislators to vote in favor of this bill that protects unborn babies 20-weeks post-fertilization and beyond from painful late-term abortions.
Reconciliation Bill – passed in both the U.S. House of Representatives and in the U.S. Senate. Although President Obama has vowed to veto this bill that cuts off $400 million taxpayer dollars from Planned Parenthood and repeals the most odious parts of Obamacare, this bill will blaze a trail that can be followed to victory once we have a pro-life president!
State
Who to Thank: Governor Walker, Lt. Gov. Rebecca Kleefisch, Senate Majority Leader Scott Fitzgerald, Assembly Speaker Robin Vos, State Senators Rob Cowles, Alberta Darling, Rick Gudex, Sheila Harsdorf, Chris Kapenga, Frank Lasee, Devin LeMahieu, Howard Marklein, Terry Moulton, Stephen Nass, Luther Olsen, Jerry Petrowski, Roger Roth, Duey Stroebel, Tom Tiffany, Leah Vukmir, Van Wanggaard, and State Represenatives Scott Allen, Tyler August, Joan Ballweg, Kathy Bernier, Mark Born, Janel Brandtjen, Ed Brooks, Rob Brooks, Dave Craig, Mary Czaja, Cindi Duchow, James Edming, Bob Gannon, Dave Heaton, Cody Horlacher, Rob Hutton, Andre Jacque, John Jagler, Adam Jarchow, Terry Katsma, Samantha Kerkman, Joel Kitchens, Joel Kleefisch, Dan Knodl, Dean Knudson, Dale Kooyenga, Jesse Kremer, Scott Krug, Mike Kuglitsch, Bob Kulp, Tom Larson, Amy Loudenbeck, John Macco, David Murphy, Jeff Mursau, John Murtha, Lee Nerison, Adam Neylon, Todd Novak, John Nygren, Al Ott, Jim Ott, Kevin Petersen, Warren Petryk, Romaine Quinn, Keith Ripp, Jessie Rodriguez, Mike Rohrkaste, Joe Sanfelippo, Michael Schraa, Ken Skowronski, John Spiros, David Steffen, Jim Steineke, Rob Swearingen, Gary Tauchen, Jeremy Thiesfeldt, Paul Tittl, Travis Tranel, Nancy VanderMeer, Tyler Vorpagel, Tom Weatherston (Find your legislators and all contact info here.)
Legislative Victories:
Pain-Capable Unborn Child Protection Act – thanks to the efforts of our right-to-life State Legislature and Governor, the Pain-Capable Unborn Child Protection Act is now law in Wisconsin! This was Wisconsin Right to Life's #1 legislative priority this legislative session, and we are especially grateful for authors Sen. Mary Lazich, Rep. Jesse Kremer, Rep. Joe Sanfelippo, and Rep. Joan Ballweg who led the effort to protect pain-capable unborn babies.
Rewrite of Campaign Finance Law to Protect Free Speech – after fighting in court for so long to protect First Amendment principles that previously went unprotected in our state's campaign finance law, especially when it comes to issue advocacy, we are incredibly happy that our State Legislature worked to ensure that our campaign finance law will be constitutional. Governor Walker just signed this bill into law as Act 117, so that regardless of anyone's political persuasion, all can participate in public debate and provide information relevant to issues that they care about. (Note: Sen. Cowles did not vote in favor of this bill.)
So-Called "Death With Dignity" Bill Defeated – thanks to our strong right-to-life majorities in both houses of the State Legislature, a bill to legalize physician-assisted suicide did not move forward.
A thank you can make a big difference – so call, email, or write, and ask some friends to join you!